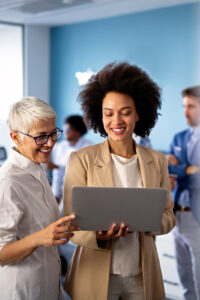 Brice Cohey assists businesses by taking their tidal wave of paperwork and/or computer-based information and making it accessible and useful through the implementation of customized databases. Ann is able to develop custom solutions for each organization. These solutions are designed around the amount and type of existing data, the expected additions and the manner in which the client needs to access and use the data. Not only does she develop database solutions that work now but will grow and expand to fit the client's future needs.
The following is one such example of how Brice Cohey assisted CalWest Seeds with a custom database solution.
Cal/West Seeds – West Salem, WI

Challenge – Imagine every time a customer called to inquire about a product you might need to search in a combination of books, folders, and spreadsheets depending on the type of information the customer requested. This process could take a few minutes or possibly hours.
Brice Cohey Consulting was able to work with the staff at Cal/West Seeds to determine the parameters and designed a database and reports to house and organize all of their information.
Now a customer can call requesting information on a product and the Cal/West employee can produce a report with the requested information in just a few clicks of a button.
Result – Cal/West Seeds is able to provide customers with the information they need more efficiently, effectively and in a professional format.